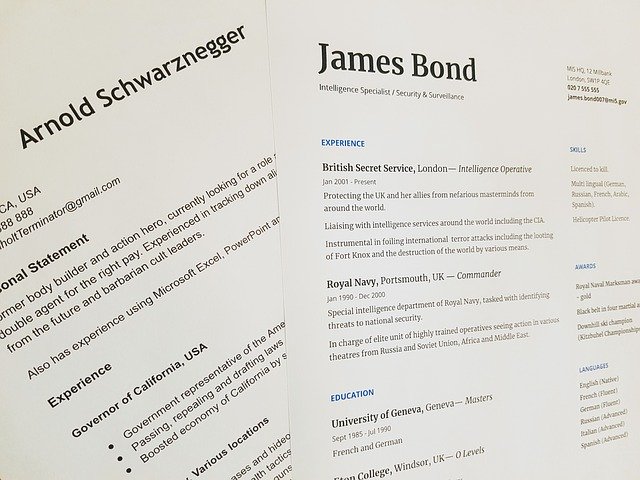 Is your college life coming to an end? Are You Ready for On-Campus Recruiting? Are you wondering how to get the momentum?
If so, the very first step is to create a stunning resume for campus recruiting.
You must submit your CV for each application. The résumé of a recent graduate with little to no work experience is not enough meat on the bone. However, knowing what to include on your resume and what to focus on means you can be successful at campus internships.
Implementing these 7 hacks to perfect your resume can help.
1. Choose the correct format:
Choose the right one Resume format gives you a head start in creating a campus recruiting resume.
Among all the available formats, the reverse chronological order format is the most appropriate format for your resume. And here is the reason:
Reverse chronological resume format helps you outline the details of your professional life story by presenting your most recent experiences first. This will help a recruiter better understand your performance as they can keep track of key events in your life such as the details of your education, internships and work experience (if any).
2. Write a well-written CV goal:
Most college students start working on their resumes during the recruiting season. These last minute resumes tend to be of poor quality as students tend to copy their classmates who they likely copied themselves from unreliable sources.
How can you break the curse of poorly written résumés?
Writing a great resume goal is a good place to start.
A resume with a powerful goal that effectively articulates your career goals can help you stand out from the competition. It also helps recruiters understand your goals and ambitions, and further helps them determine if you are a good fit with the company.
When you are out of words and unable to find the right things for your resume goal; Think like a business owner with critical hiring needs.
Would you hire a candidate who only talks about the things they're looking for? Or would you prioritize a candidate whose goal is to show how they can use their skills to help the organization?
You would obviously choose the latter.
So. Here's a penny for your thoughts. Focus on your skills and abilities as you create your resume goal.
Instead of making a shopping list of the things to look for in a job, talk about how you can be beneficial to the company. Another trick is to keep it short and informative. Regardless of what information you want to include in your resume goal, make sure to keep it down to 3-5 lines.
3. Prioritize your academic information.
Highlight your academic information on your resume as this will save you as fresher. If you have next to no work experience, a colorful description of the prestigious college you attended and the academic achievements you achieved will work wonders for your resume.
As a rule of thumb, list your academic qualifications in reverse chronological order and remember important details such as the name of the university, your grades, and enrollment and graduation dates.
However, if you just mention your grades, you will get stuck with recruiters as there is a lot of new blood in the market with a new army of graduates with qualifications equal to or better than you.
In such a situation, the need to stand out is at an all-time high.
You can do this by adding information about your on-curriculum and off-curriculum activities. This is a great way to show that you have actively used your college days to develop skills that you can use when starting a job.
Additionally, you can split all modules and coursework across the duration of your degree and tailor your resume to the job you are targeting by only mentioning projects that are relevant to that particular profile.
4. Highlight your achievements.
Don't be afraid to show off. Everything that sets you apart will help you find a job recruiting on campus. Be it language or debates, sporting activities or music competitions in which you have won or stood out. Make sure you highlight these well on your resume.
By sharing these achievements on your resume, you can showcase your leadership skills. Also, if you can show that you have led a team of 5 in competitions, you can also demonstrate your team building skills. Getting ahead of the competition for miles is as simple as possible as it is highly valued by companies looking for new graduates to have inherent leadership and management skills.
5. Support volunteer and internship experiences.
As a freshman, your resume may be lacking a bit of oomph for on campus recruitment as you don't have relevant work experience to your name. But that doesn't matter much, because companies that come to recruit are looking for new talent and know that you don't have a goldmine of work experience anyway.
The aim is to show the recruiter that you have the skills for the job they are being hired for, even if you may not have relevant work experience.
What recruiters are looking for is qualified talent. Advocate voluntary workInternship experience and relevant hobbies can help you radically fill that gap and make a positive impression in the recruiter's eyes.
6. Keep it relevant, keep it crispy.
The ideal length of your student résumé is 1 page. Since you have virtually no work experience, it can do more harm than good to unnecessarily enlarge your resume.
So when creating a resume for campus recruiting, make sure it's short enough to keep the recruiter busy, but not too short for them to question your competency. It has to tell the recruiter everything they need to know without pulling it out. It has to tell a compelling story of your professional caliber.
As a rule of thumb, you shouldn't fill your resume with irrelevant details as relevance is key and your resume should reflect relevance at all times.
7. Proofreading.
All of your efforts will mean nothing if you make mistakes that could easily have been avoided by being thorough and careful.
Example: Lots of people tend to make frequent misspellings and formatting errors that just make the resume look messy and directionless. While this is not a big deal, and most recruiters might even turn it down. However, there is a slim chance that the recruiter evaluating your resume for a coveted position in your dream company will be a grammar dog who equates these mistakes as marks of incompetence.
Our advice? Do not take any risks.
Make sure to proofread your resume after completing your resume. It takes less than 10 minutes and saves you the embarrassment of costing you your dream job.
Conclusion.
Your campus recruiting can earn you your dream job and set you up for success. A well-written resume can work wonders to achieve this.
All you have to do is:
Write a well-worded resume goal.

Focus on your academic information.

List your achievements, internships, and volunteer experiences.

Optimize the length and formatting of your resume.

Proofread your resume for grammatical or spelling mistakes.
Do you want to tell your strange story? Tell us about it and it could be featured on Oddee. You can remain completely anonymous.