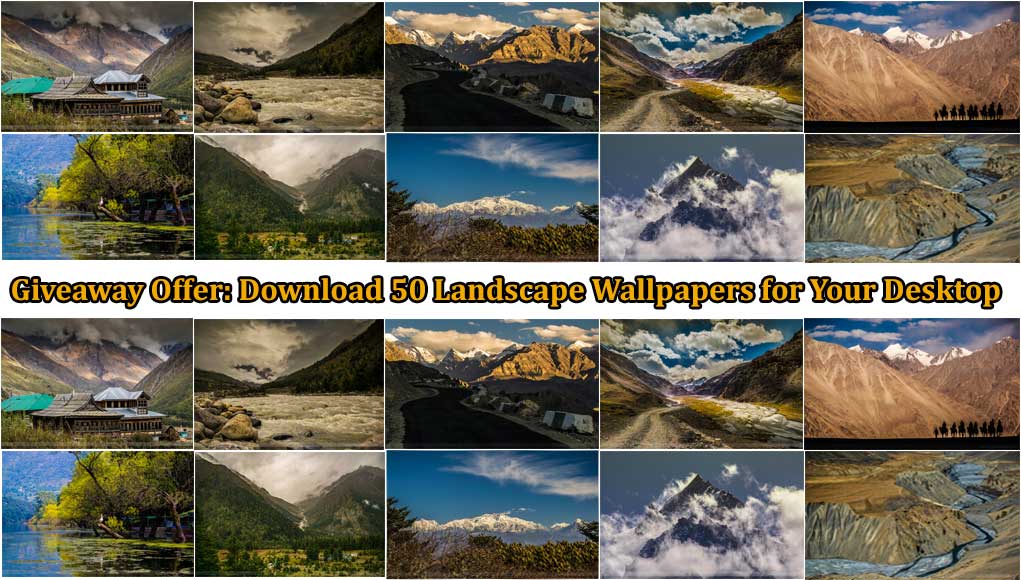 It's time to change the mood as you work at your desk, open your computer or laptop, or come home exhausted after a hectic day's work. Well, after you open your PC or laptop, when you see something refreshing, inspiring what your wish is, or the place you always want to travel.
Guess what! Today I'm giving away 50 landscape photos that you can download for free and use as wallpaper for your desktop or laptop.
I love taking landscape photos while traveling. So I took thousands of pictures during my trip. But here in my giveaway offer I'll give you some of my best shots to use your wallpaper completely free. These 50 photos were taken during my Ladakh, Spiti Valley tour, Sandakphu and Brahmatal hike.
If you really like them, please share them with your friends and do not forget to subscribe to our blog to get more free giveaways like this one. Do not forget to like our page on Facebook. Until then Travel, Share & Inspire
Here are 50 landscape photos for free download
Note: Click "Download" to save the HD background file
1

. Chitkul Village

Download
. 2 Sangla Valley

Download
. 3 Kinnaur Valley

Download
. 4 Baspa Valley

Download
. 5 Nako Lake

Download
. 6 Nako Village

Download
. 7 Spiti Valley

Download
. 8 Dhankar Village

Download
. 9 Parvati Valley

Download
10th Spiti River

Download
. 11 Spiti Road

Download
12th Losar Village

Download
. 13 Losar

Download
fourteenth Chandratal Trek

Download
15th Chandratal Lake

Download
sixteenth Losar

Download
17th Night Sky with Camp

Download
18th Brahmatal Trek

Download
19th Brahmatal Lake

Download
20th Uttarakhand Mountains

Download
21st Nubra Valley

Download
22nd Sarchu Road

Download
23rd Ladakh Road

Download
24th Road to Heaven

Download
25th Himalayan Mountains

Download
26th Brahmatal Aerial View

Download
27th Tso Kiagar

Download
28th Pangong Lake

Download
29th Bicycle Ride at Pangong Tso

Download
30th Nubra Ladakh

Download
31st Changu Lake

Download
32nd Bhimtal Nainital

Download
33rd Reflection

Download
34th Kargil Landscape

Download
35th Tso Moriri

Download
36th Lagoon at Pangong Lake

Download
37th Leh to Kargil Road NH1

Download
38th Ladakh Road Trip

Download
. 39 Ladakh Road Journey

Download
40th Kalapokhri Lake

Download
41st Sandakphu Trek

Download
42nd Kanchenjungha

Download
43rd Kufri

Download
44th Kalpa

Download
45th Kinnaur Kailash Peak

Download
46th Key Monastery

Download
47th Spiti Valley Mountain Structures

Download
48th Spiti Valley Road

Download
49th Kinnaur Green Valley

Download
50th Green Valley of Ladakh

Download
Source link